This article refers to version 1.x of the plugin. Click here for version 2.x (http://help.wemalo.com/wordpress-wemalo-api-2/).
—
To update the Wemalo WooCommerce plugin, the plugin must first be deleted and then reinstalled.
To do this, first deactivate the plugin: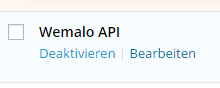 Delete afterwards:

And confirm the deletion:
Afterwards it can be uploaded and installed as usual.