In the section "Loading aids" (LHM) you will find information about "Storage bins" and their contents. Here, "loading aids", such as cartons or pallets, can be managed, created and their positions viewed.
Via "Master data- > Warehouse master data" you reach a list with all available warehouses.
Now click on the "name" of a warehouse to go to the individual view of this warehouse.
If necessary, limit the displayed "warehouses" with the filter function.

Now click on the "LHM" tab to be redirected to the "Loading aids" mask.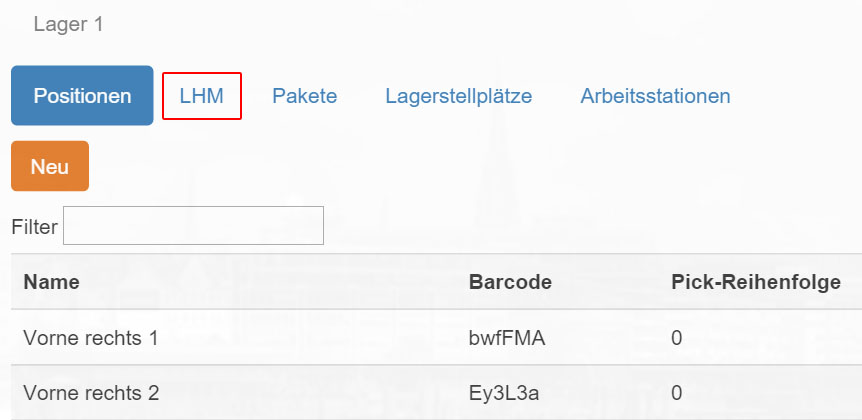 Now select the "Type of parking space" and then click on "Show".

You now see a list of all available "storage bins". In the above example, these would be all those intended for cartons.
Click on the tile symbol in the "Actions" column to go to the individual view of a "storage location".
Under "Parking space content" you can see which products are on the "Storage parking space".

Under "Stock movement" you can view all former contents of this storage location.

Here, too, you can use the "Filter" menu on the left to restrict the results displayed. You can also search the list for the "SKU" or a product "name" or specify the period of storage.